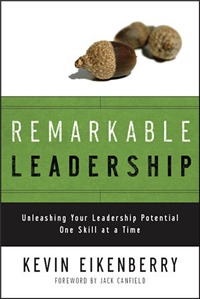 Remarkable Leadershipoutlines a practical plan for focusing on one of twelve competencies at a time.
The core competencies define the remarkable leader as someone who:
Champions change
Communicates powerfully
Develops others
Builds relationships
Focuses on customers
Influences with impact
Thinks innovatively
Values collaboration and teamwork
Solves problems and makes decisions
Takes responsibility and accountability
Manages projects and processes successfully
Sets goals and supports goal setting
The overarching, thirteenth competency – the Remarkable Leader learns continuously – is incorporated throughout the book.
Beyond the text within the book itself, readers are offered over 50 additional practical resources called Bonus Bytes – accessed from this with keywords provided in the book.
Remarkable Leadership is an original book that is based on The Kevin Eikenberry Group's Remarkable Way Membership System – a proven process designed to help people become more proficient in their role as a leader.